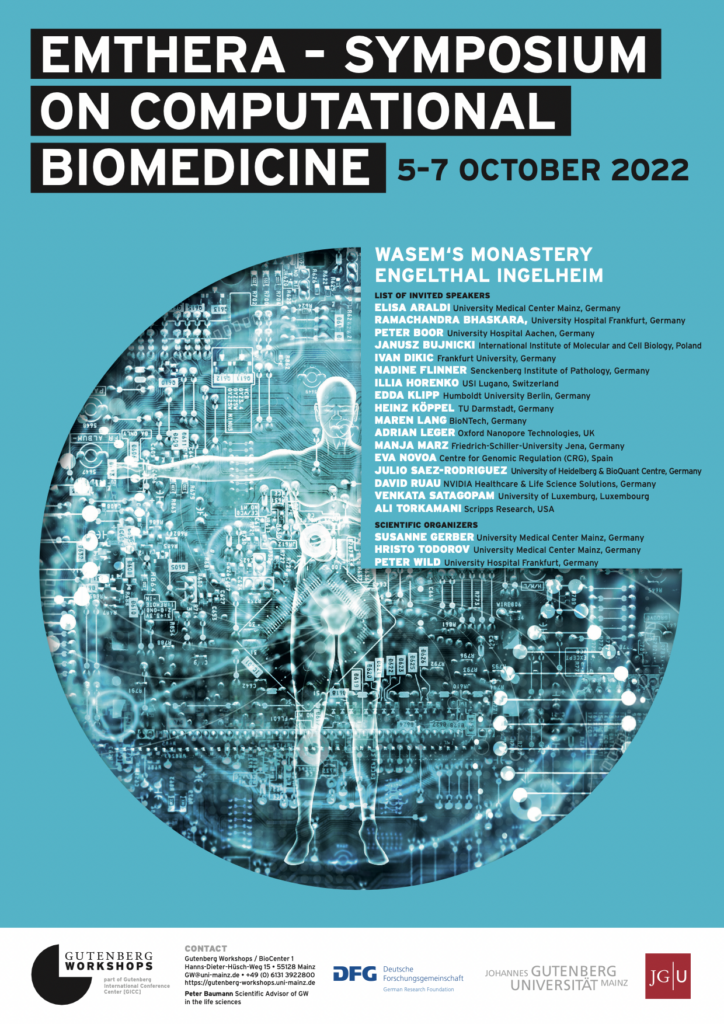 We are pleased to welcome you to the EMTHERA Computational Biomedicine Symposium, to be held at Wasem Kloster Engelthal (Ingelheim, Germany), October 05–07, 2022.
We are pleased to announce that the symposium, supported by Gutenberg Workshops in the Life Sciences, will again be an in-person event. Computational biology is a key tool to help our society find solutions to current problems in medicine and emerge stronger from crisis such as COVID19. Events like the EMTHERA Symposium on Computational Biomedicine are essential to fostering the scientific debates and collaborations that help move the field forward.
The three-day symposium features a number of high-profile keynote speakers and insightful presentations, and welcomes scientists working in a variety of disciplines, including bioinformatics, computational biology and pathology, drug discovery, systems biology, artificial intelligence, biology, and medicine. Attendance provides a unique opportunity to keep up with cutting-edge research while connecting with a diverse and broad research community from many areas of the life sciences and beyond. We are confident that the symposium will facilitate the dissemination of knowledge of great interest, lively scientific discussions, and stimulate a creative exchange of ideas.
We look forward to meeting you in person in this unique setting!
Looking for an accomodation?
All bookings will be on a self-pay basis. For further options visit this website.
If you have any questions, please contact the organizing committee at:
Gutenberg Workshops